Data Management
Production equipment, such as metal cutting machine tools, can be monitored directly, continuously and in real time. The data generated in this way are used to display and monitor current conditions and to trigger automatic reactions if limit values are exceeded. This allows, for example, for responsible employees to be alerted. The available data storage space determines the extent to which the data can be used for the analysis of processes, tools and machines. 
Based on data stored externally (e.g. in machine controls), individual programs such as STATISTIC or PROCESS DOCUMENTATION can be used to compare current and historical data. A comprehensive evaluation covering longer periods of time or larger data amounts, however, has its limits here.
Extended production and monitoring data need to be included to predict upcoming events and enable appropriate planning. The often unused data from sensors and modules can make a valuable contribution to maintenance and production planning, as they can be used when changes occur to spindles, axes and tools. A comparison of current with historical data then serves as the basis for predictive maintenance and allows predictions to be made about failing components, tool wear or other problems.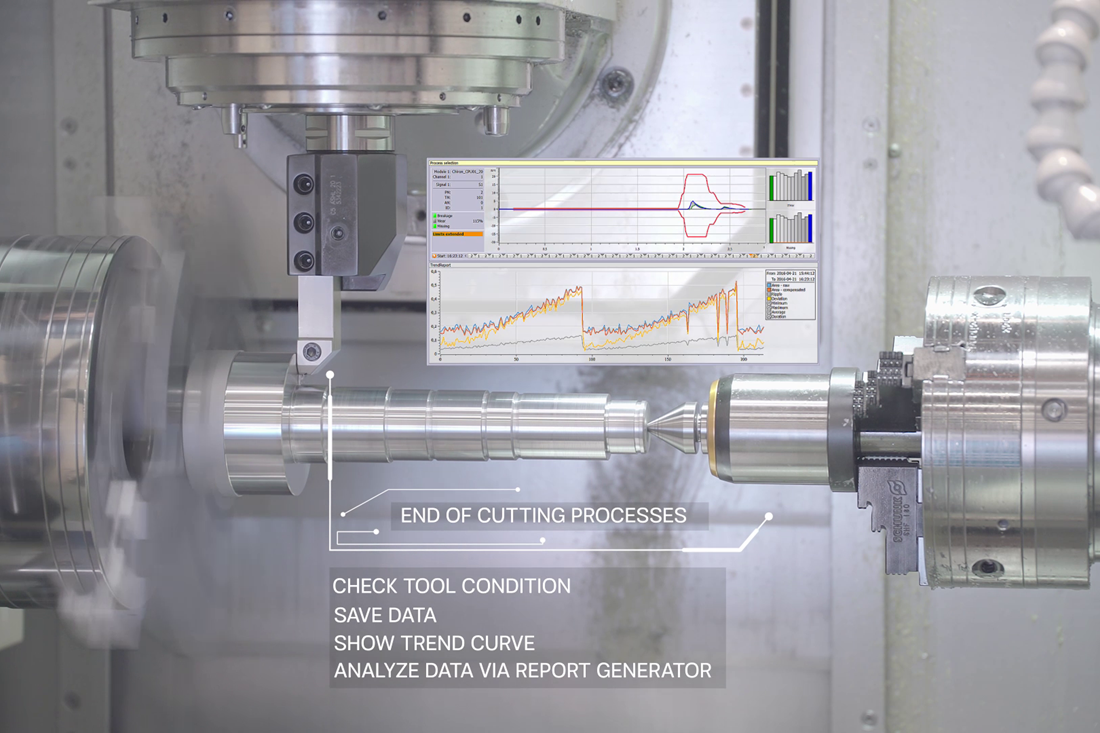 DESCRIPTION
The Artis software collects relevant process data from the Artis process monitoring systems and connected machine controls and converts it into usable information.
Special Artis software tools collect, analyze and document these process data, which serve as the basis for significant error and event analysis. Each individual processing step can be viewed in detail and comprehensively. Data evaluation can also be carried out from the office via a network connection.
The CTM and GENIOR MODULAR process monitoring systems allow limited data management with integrated and optional software tools. The data can be provided in CSV format, among other formats.
The software of a database management system (e.g. C-THRU4.0), which is installed on a PC or file server, allows the transfer and storage of data from different services. All relevant collected data is stored in a SQL database. The CTM and GENIOR MODULAR process monitoring systems in the machine tool remain autonomous and active in real-time.
The amount of data collected varies depending on the configuration. The calculation of the required storage space on the hard disk results from the number of networked monitoring systems and the planned storage period.
BENEFITS
Comparison of tool and machine life data
Communication (e.g. result, problems) using automatically generated reports
Comparison of various suppliers' tool life and performance
Controlling using profitability analysis
Workpiece output overview
Trend curves for tool life, spindle vibration (or other sensor data)
Information for a predictive maintenance management
Data for the quality management process
Remote access to the visualization and process data of cutting process
VERSIONS
C-THRU4.0 – Database management system for Artis tool, process and machine condition monitoring
C-DASHBOARD – Information system for production management. It provides an overview of the condition of all machines, tools and processes (Option of C-THRU4.0)
GEMBOX und GEMBOXHP – Industrial-PC for Artis monitoring systems
DataImporter (GEM Option) Transmitter of collected process data
Statistik (CTM Option) Data memory last processes, last alarms
Process Documentation (CTM Option) Data collection, measuring data
Fingerprint (GEM Option) Machine condition monitoring
Screenshot function (CTM Option) for specific storage of current visualizations
Top
Contact us